We know that students need real-world practice to thrive as educators upon graduating and moving into the workforce. That's why we've built hands-on experience into our online School of Education programs—in the form of live debates, presentations, and breakout group discussions with fellow graduate students, and in-person student teaching experiences.
Live Sessions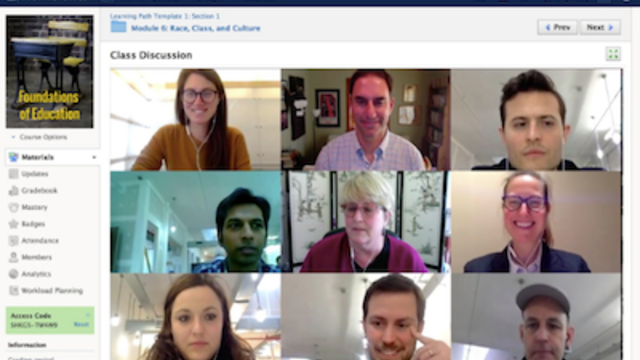 Our combination of innovative technology, a carefully considered curriculum, and active partnerships fully prepares students to be the world-changing teachers they set out to be. Because we keep our program size small, we can encourage a supportive and individually tailored learning environment for our students so that they can fully take advantage of our program across its facets. We're in the business of helping our students build a better society, and we know that starts with a rich graduate learning environment.
Our learning management system (LMS), Schoology, serves as students' centralized hub for all course content and activities. Think of it as the online equivalent of a traditional classroom environment. Our graduate students use this system to manage everything from course syllabi, expectations, and tasks to materials, grading requirements, schedules, and communication with instructors and peers. Tools and apps such as Google Drive, TurnItIn, and Kaltura are integrated into the Schoology environment, which allows students to seamlessly move among the software solutions that make their online learning experience interactive and rich.
Interactive Coursework
In addition to coursework that students can complete on their own time (asynchronous coursework), our students can expect to be part of live sessions (synchronous coursework), which take place in the Zoom platform. As with any course that meets regularly, dates and times of live sessions are shared with students as early as possible to ensure they can attend. These sessions are highly interactive and therefore also an important and enjoyable part of the curriculum and instructional preparation.
Participation in the live sessions is required; there are no alternative assignments available in place of a missed live session. Live sessions are approximately 1 hour and 50 minutes in length, and they use a flipped classroom approach, focusing on the application of knowledge and skills gained during the asynchronous course components, discussions, and case follow-ups.
Our faculty uses a portion of these sessions to answer questions and clarify confusing or difficult concepts, but the bulk of this time is spent on student-centered activities. During this synchronous time, our graduate students participate in group discussions, breakout sessions, class presentations, debates, and other active learning experiences. Plus, students will have a chance to get to know and engage with faculty and fellow students in the learning experience, first through video introductions and ongoing with familiar social tools like messaging, chat, and notifications.