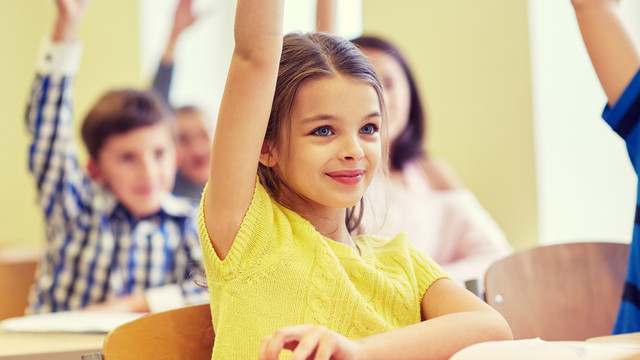 In the conversation about closing the country's widening gap in student achievement, there's a lot of talk about policy, funding, test scores, and parent involvement. Research shows that each of these factors indeed plays a part in determining how much a student learns. But no factor is as important as the one that too often gets left out of these discussions, perhaps because it seems at once too obvious and too ineffable for efforts around rigorous improvement: the quality of teachers.

One study found that in a single year, the top 10 percent of teachers impart three times as much knowledge to their pupils as the bottom 10 percent do. Another landmark study found that quality of teaching more directly affects student learning than family income, school attended, or class size—and the effect is stronger for disadvantaged and minority students.
In other words, good teachers make a tremendous difference in the lives of students. But that established fact can lead to admittedly less clear-cut questions of how to define a top-quality teacher. Below are a few of the qualities that top teachers, students, and education researchers agree top-notch teachers possess.
1. Having a Grounding in Pedagogy
Pedagogy, simply put, refers to the method and practice of teaching. A given teacher's pedagogy will determine how he responds to student challenges, unexpected situations, and apathy. Pedagogy determines how a teacher introduces difficult subjects, engages student attention, and makes a given lesson relevant.
A strong pedagogical grounding is not something that future teachers are born with; they develop a pedagogical understanding and practice over time through high-quality teacher preparation programs, ongoing teacher training, experience in the classroom, and discussions with other teachers. For a would-be teacher to give herself the best shot at becoming a great teacher someday, she should give careful thought to where she begins her own pedagogical training.
2. Establishing Their Own Standards for Success
Favorable metrics are one thing. Real student progress is another. Rather than hewing too closely to predetermined markers of student "success," it's crucial that teachers also articulate for themselves the higher-minded differences they hope to make in the lives of their students. In one way or another, this comes back to those findings regarding the importance of teacher quality in the lives of students: if teachers are aware of such findings and take them seriously, they can begin to chart out the ways they want to use their unique influence in the classroom. Individual missions will look different among teachers, but most will incorporate developing in students curiosity, a trust in their own ability to learn and improve, and an understanding of their role within a larger community and the value of that role.
3. Building a Community of Democracy and Respect in the Classroom
Most classrooms aren't devoid of rules or authority figures, but the best teachers understand that those things can exist within an environment of collaboration and a cultivated sense that the classroom community is a mini-democracy where every voice is heard when making certain decisions. Classrooms are a place for taking tests, but they are also a place for learning how to peacefully coexist in society and recognize one's own responsibility to the common good. Good teachers continually challenge themselves to find new ways to incorporate this sense of democracy into the classroom—perhaps by facilitating a group discussion to try to move toward a consensus and see the opposing side's point of view before voting on a classroom decision, or working to move students toward productive action when they step forward to complain about how something is done.
4. Participating in a Community of Teachers Who Inspire Them to Keep Learning, Shifting, and Improving
Great teachers don't achieve that high threshold without a supportive group of more experienced peers. They learn more quickly by pairing their own experiences with stories from other teachers, talking through the issues they may be having with challenging students, and learning about new pedagogical theories and practices from others dedicated to a lifetime of ongoing improvement. Starting with a strong graduate program means you will always have a strong alumni network to draw from, along with colleagues, online teacher networks, teacher conferences, and continuing education classes and workshops.
As a teacher, achieving the mantle of "great" requires a passion for the profession beyond anything tied to financial reward or recognition. Anyone who is motivated by the idea that teachers have real and unique positioning in the classroom to improve students' lives has the potential to be great.
To learn more about American University's online education programs, click here.

Additional Resources
http://www.economist.com/news/leaders/21700383-what-matters-schools-teachers-fortunately-teaching-can-be-taught-how-make-good
http://www.chronicle.com/article/What-Makes-a-Good-Teacher-/236657
https://www.facultyfocus.com/articles/philosophy-of-teaching/nine-characteristics-of-a-great-teacher/
https://www.tes.com/institute/blog/what-makes-good-teacher
http://www.scholastic.com/browse/article.jsp?id=3755567
http://kstf.org/article/what-makes-good-teaching/
http://www.telegraph.co.uk/education/educationopinion/11347131/You-dont-need-a-qualification-to-be-a-good-teacher.html
http://www.centerforpubliceducation.org/Main-Menu/Staffingstudents/Teacher-quality-and-student-achievement-At-a-glance/Teacher-quality-and-student-achievement-Research-review.html
https://www.newamerica.org/education-policy/edcentral/closing_the_gap/