Required Credits:
40 credit hours
Overview
School districts and other education K-12 organizations need senior leaders with a deep understanding of education policies and education system improvement. With its location in D.C., AU is well-positioned to help students learn how senior leaders can use federal and state policies, educational research, and organizational leadership to make an impact in the field. In alignment with the School of Education's vision of preparing the next generation of highly effective education leaders, the EdD in Education Policy and Leadership program will complete the School's spectrum of programming for novice and experienced education professionals.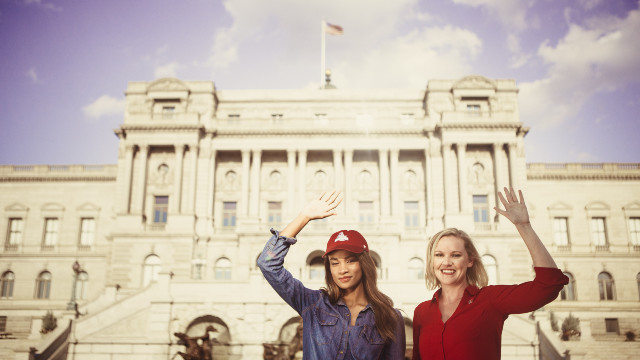 Program Goal
Graduates of the EdD program will be equipped with the skills every education leader needs to be effective, including strategic budgeting, collaborative inquiry, talent management, partnership building, learning science, and program evaluation. After completing their coursework and their Problem of Practice (PoP) dissertation, students will have the policy, leadership, and research skills necessary to serve in senior positions in school district central offices, independent schools, nonprofit organizations, government agencies, advocacy organizations, and more.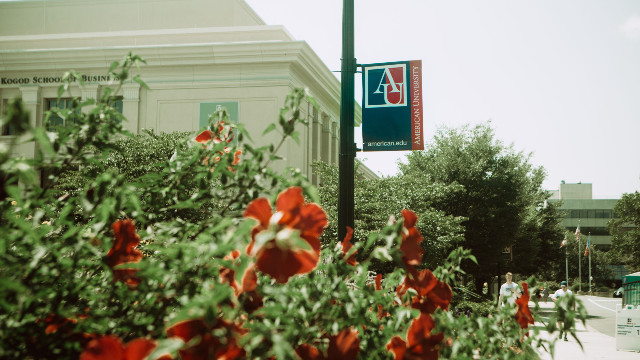 What makes American University's online education programs unique?
Our faculty members have worked in the fields they teach, which means they know the importance of pragmatic and carefully studied policy for lasting widespread change. .
"No matter how brilliant or researched a policy idea is, the wheels always fall off if there's weak implementation," says Jason Snyder, Senior Professorial Lecturer, School of Education. "That's why American University's master's in education policy and leadership focuses as much on putting policy into practice as it does on policy development."
In other words, we meet passion with real-world, hard-won lessons to give students the best possible chance for success upon graduating, ensuring that they have the resources and tools required to bring innovation to the American educational system. We don't doubt that our students can transform educational systems for the better, and that means we've worked hard to establish an education master's program that marries the theoretical with the practical, the heady with the imperfectly real.
| Term | Priority Application Deadline | Application Complete Deadline | Class Start |
| --- | --- | --- | --- |
| Fall 2019 | June 28, 2019 | July 24, 2019 | August 26, 2019 |
Sample Course Schedule
To complete the online Doctorate in Education program, students must earn 40 credits, which includes two (2) required D.C. residencies, encapsulated in the EDU-798 course.
SEMESTER 1
EDU-702 Collaborative Inquiry through Systems Thinking
EDU-631 Educational Leadership & Organizational Change
EDU-798 Residency (1 of 2)
SEMESTER 2
EDU-703 Designing the Problem of Practice
EDU-610 Overview of Qualitative & Quantitative Research Strategies*
*Elective for students who have taken 610
SEMESTER 3
EDU-634 Education and Public Policy
EDU-704 Diversity, Inclusion and Equity
SEMESTER 4
EDU-790 Quantitative Research in Education
EDU-707 Leadership and Learning Sciences
EDU-798 Residency (2 of 2)
SEMESTER 5
EDU-705 Strategic Resource Management
EDU-737 Partnerships
SEMESTER 6
EDU-710 Primary Data Collection and Analysis Research Design
Electives (3 credits)
EDU-735 Advocacy and Communication
EDU- 696 Whole Child
Human Capital/Talent
Nonprofit Management
Neuroscience
K-12 to Higher Ed Pipeline
SEMESTER 7
EDU-898 Doctoral Research
EDU-897 Dissertation Practice
SEMESTER 8
EDU-899 Dissertation Defense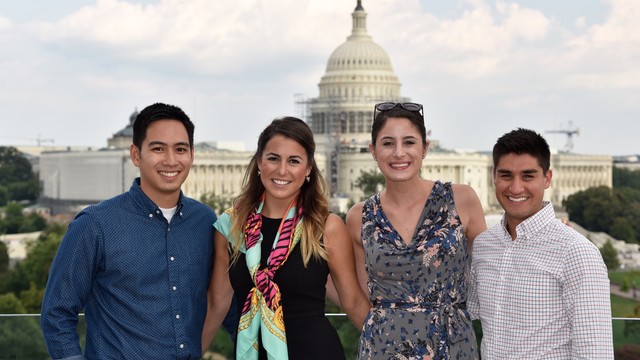 Who should choose this degree?
The EdD program is for the student who wants a career in research or academia, one that affects children and educators lives (and expands his/her impact as a leader). Students will be trained to be savvy users/consumers of research who solve problems of practice and work to continually improve upon them. Students are comprised of leaders who want to dive deeper into root cause analysis and system thinking.
Learn to Make a Difference
Interested in learning more about American University's School of Education?