Priority Application Deadline
June 28, 2019
Application Complete Deadline
July 12, 2019
Class Start
August 26, 2019
It's time to serve your American Education System
You've already proven in your military career that it's in your blood to serve. Now that you're home, how can you continue to push yourself to your full potential while serving your country and driving real and positive change? By way of one possible answer, we at AU's School of Education have a message for you: Your country's education system needs you.
At American University, we know that our democracy simply cannot function at its highest level without passionate and dedicated leaders and teachers. Today, our country simply doesn't have enough of them: According to the Learning Policy Institute, the United States faced a shortage of approximately 60,000 teachers in the 2015-2016 school year.
This is a moment when would-be teachers need to heed their calling, and act. We are here to help you step up and do just that.
The AU Advantage for Military Student
Your country needs you, and AU wants to help you develop your potential as a leader in the classroom and as an education expert. Here are some of the benefits we offer to former military, as one indication of how much we value your experience and service: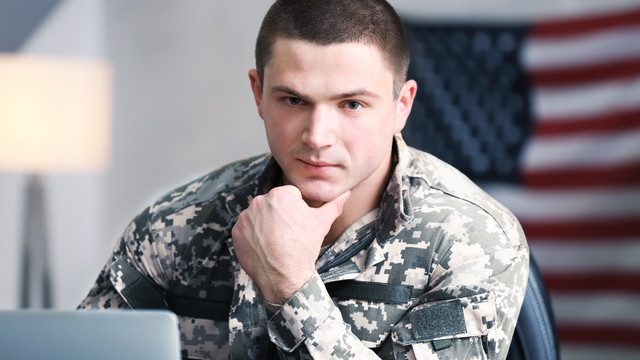 An AU Veteran Services officer will help you navigate the opportunities and requirements of the Post-9/11 GI Bill, which covers eligible individuals' tuition and mandatory fees, capped at $22,805.34 for the 2017-2018 academic year. For additional support, please contact us at veterans@american.edu.
We will connect you with the AU Veterans Offices to find out more about Yellow Ribbon Program.
Our high-touch admissions process includes waiving the application fee and working around your schedule and needs.
AU's SOE includes access to a Leadership Development Program that integrates the services of seasoned executive coaches with the tools typically reserved for high-level executives at Fortune 500 companies.
Financial Literacy
Understand your financial options for our online programs.
$51,240.00
Total (2 years)
Apply Scholarship Discounts
$56,364.00
Total (2 years)
Apply Scholarship Discounts
$70,360.00
Tuition varies based on prior education. Cost does not include fees, books, cost of living, travel, etc.
Apply Scholarship Discounts
$56,364.00
Total (2 years)
Apply Scholarship Discounts
Learn to Make a Difference
Interested in learning more about American University's School of Education?