Required Credits:
30 credit hours
Estimated Time to Completion:
Less than two years
Transfer Credits Accepted:
6 credits
Overview
The US educational system needs innovation. With national policies directing resources away from institutions and students in need, schools and educational organizations, large and small, have a pressing need for driven professionals who can enact systemic reforms that will reinvigorate the American educational system. With an online master's degree in education policy and leadership from American University, those with a fervent desire to change the course of American education will have the tools to do so. The master's in education focuses primarily on policy, leadership, law, economics, and research, allowing graduates to cultivate the perspective and skills necessary to shape education policy and change schools, with an eye toward supporting students—especially the most vulnerable.
American University's online master's in education program provides access to faculty members who have worked in the US Department of Education and served as consultants on the Obama administration's Reach Higher Initiative. MEd graduates leave prepared to join a network of American University alumni who are transforming education in the United States.
Click here for more information on our campus-based programs.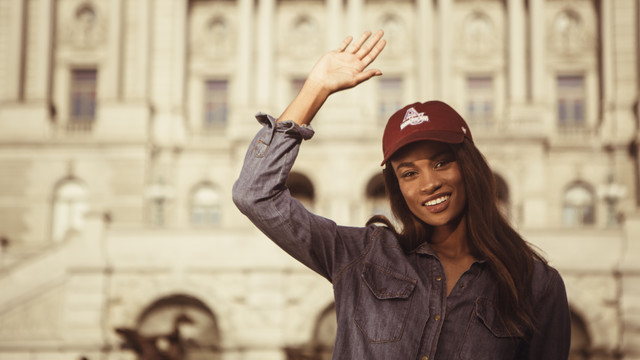 Program Goal
To attract high-quality, diverse students with both professional and academic accomplishments so that students can learn from one another and (with MEd In hand) have a substantial impact at the national, state, or local level.
Program Highlights
Earn your degree in 20 months

Learn from current and former DC-based policy makers

Join an active and supportive alumni network

Receive support for identifying career pathways and opportunities

Gain hands-on experience through consultancy projects in educational organizations
| Term | Priority Application Deadline | Application Complete Deadline | Class Start |
| --- | --- | --- | --- |
| Summer 2019 | March 1, 2019 | April 12, 2019 | May 13, 2019 |
| Fall 2019 | June 28, 2019 | July 28, 2019 | August 26, 2019 |
Curriculum
The online Master of Education (MEd) in Education Policy and Leadership provides teachers and other professionals with the knowledge and skills to transform schools and school systems. Its focus onPolicy Studies prepares graduates to serve as leaders in organizations - including federal and state education agencies, school districts, and nonprofits - that implement education policies and programs. In addition to leadership, policy, legal, economic, and research skills, the curriculum emphasizes the data analysis and performance management skills needed to administer education programs and policies.
Students enroll in two courses each semester and complete the program within a twenty-month period.
Sample Course Schedule
To complete the Master of Education in Education Policy and Leadership, students must complete 30 hours of approved graduate work, including a 3-hour capstone experience in their final semester.
SEMESTER 1
EDU-610 Overview of Qualitative and Quantitative Research Strategies
EDU-631 Educational Leadership and Organizational Change
SEMESTER 2
EDU-643 Foundations of Special Education for Exceptional Children
EDU-693 Education Program and Policy Implementation
SEMESTER 3
EDU-633 Economic Inquiry in Education
EDU-634 Education and Public Policy
SEMESTER 4
EDU-687 Instructional Leadership and Teacher Support
EDU-636 Education Law and Policy
SEMESTER 5
EDU-790 Quantitative Research in Education
EDU-686 Proseminarin Education Policy and Leadership
Featured Courses
Students are introduced to concepts and principles of social science research design. Observation, interview and survey design, literature reviews, development of problem statements and research questions, surveys of quantitative and qualitative data analyses, and formative and summative evaluation techniques are emphasized. Students demonstrate their competencies by engaging in a small-scale research study.
Working in small groups, students serve as consultants to an educational organization on a pressing issue of policy or practice. During this field-based project, they apply skills developed through their program of study in education policy and leadership. Students learn approaches to project management, client relations, analytical design, and project presentation, as well as receive support for transitions into policy and leadership careers.
Students examine major public policy issues and theories in American education through the three-phase lens of policy design, policy adoption, and policy implementation. They learn to describe tensions in federal, state, and local education policies with reference to historical and international comparisons, as well as to evaluate the use of various education policy tools. Policy issues considered include standards and accountability, whole-district reform, school choice, teacher quality, and college and career readiness.
Students examine theories and strategies for supporting and mentoring teachers and providing professional development opportunities in schools. They learn how to analyze instruction, provide instructional feedback, facilitate peer observation processes, develop professional learning communities, promote reflective practice, and create shared opportunities for curriculum and assessment development.
Analysis of and practice in the design of quantitative educational research. Emphasizes the nature and function of quantitative data gathering and analysis and the statistical approaches and techniques utilized to obtain particular outcomes.
This survey course examines students with diverse learning needs and effective programs designed to provide equitable education for all students. Exceptionalities of students with regard to cognitive, behavioral, and psychological/social differences are the focus of study.
Student Stories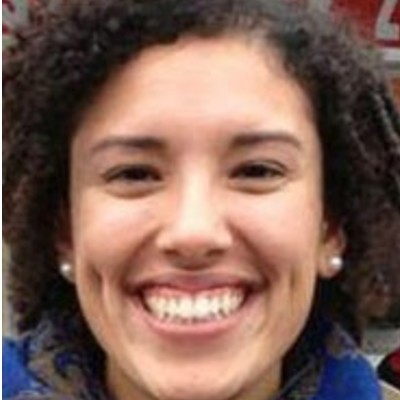 Gloria M-E.
After three years in the classroom, I joined the Government Affairs team at TFA, working to build and sustain relationships with Members of Congress and key decision makers in the Executive Branch to ensure educational opportunity for all children.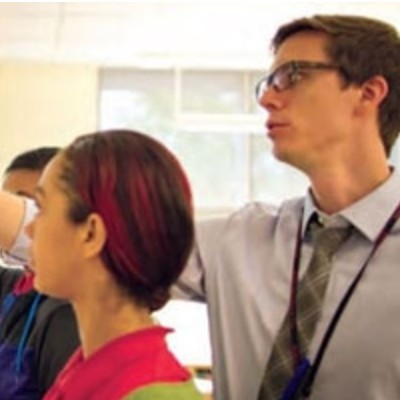 Christopher H.
I was attracted to the program because I wanted to get a MEd from a credible university; the partnership American University has with TNTP helped accomplish that. Even though I love being in the classroom, the program focus created potential to open doors down the road if I ever want to move out of the classroom teacher role.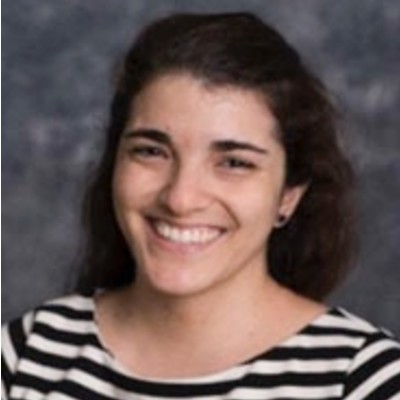 Liana P.
I am currently a teacher and math teacher leader in the District of Columbia Public Schools through the Teacher Leadership Innovation program. I spend half the day teaching 3rd grade math and science and the other half of the day coaching other teachers.
Alumni & Outcomes
American University's online master's in education policy is for individuals who are ready to become active social change makers through their involvement in social justice and policy.
Within six months of completing their programs, 97% of American University's Education in Policy and Leadership graduates are working, continuing their education, or both.*
*American University does not guarantee employment after graduation.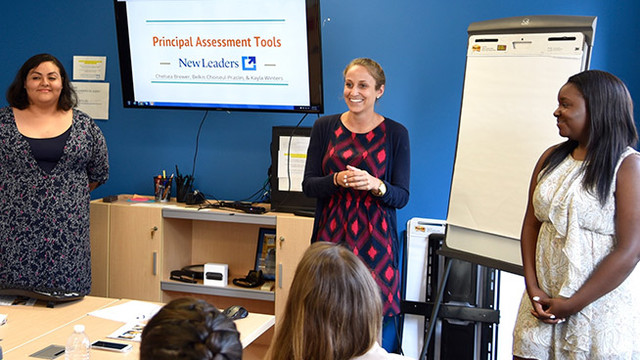 What makes American University's online education master's programs unique?
Our faculty members have worked in the fields they teach, which means they know that formulating beautifully written policy is only a first step in affecting positive and lasting change.
"No matter how brilliant or researched a policy idea is, the wheels always fall off if there's weak implementation," says Jason Snyder, director of AU's education policy and leadership program. "That's why American University's master's in education policy and leadership focuses as much on putting policy into practice as it does on policy development."
In other words, we meet passion with real-world, hard-won lessons to give students the best possible chance for success upon graduating, ensuring that they have the resources and tools required to bring innovation to the American educational system. We don't doubt that our students can transform educational systems for the better, and that means we've worked hard to establish an education master's program that marries the theoretical with the practical, the heady with the imperfectly real.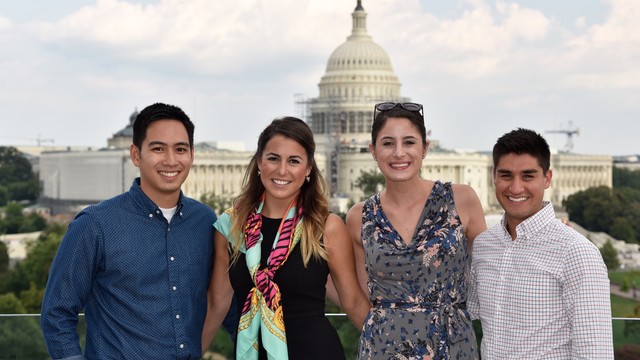 Who should choose this degree?
American University believes that in order to ensure that vulnerable student populations receive the education they deserve, we must train the next generation of school administrators and teachers to bring change to the educational system, addressing the problems and policy issues that hinder our nation's academic institutions. We understand why our students enroll with us: they are passionate about the field of education and its ability to improve our society—and they want to extend the reach of the good they can do. Our nation's educational system needs passionate teachers, individuals who are committed to driving access and developing innovative solutions to pressing concerns. With the online master's in education from American University, students will be able to achieve lasting change.
American University's online master's in education policy studies track prepares educators and other professionals to serve as leaders in educational organizations, including federal and state education agencies, school districts, charter management organizations, and nonprofits that develop, implement, or evaluate education policies and programs. The degree prepares graduates to plug into a number of different roles, bringing positive change to programs and institutions in need.
Information Webinar Sessions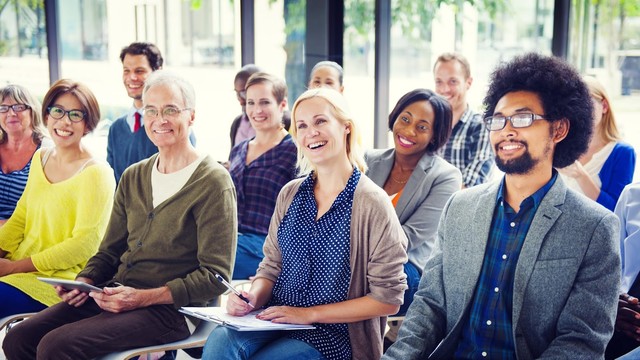 Join the admissions team for an information session on our Master of Arts in Education Policy and Leadership program. Ask any questions you might have around the program, application process or requirements.
Register For the Next Event
Learn to Make a Difference
Interested in learning more about American University's School of Education?